Rating: 4.5/5
Distributor/label: Self-Released
Distributor/label URL: http://workhorse3.bandcamp.com/
Released: 2016
Buy Album [URL]: http://workhorse3.bandcamp.com/
Band Website: https://www.facebook.com/THE-WORKHORSE-III-132425480127683/
Band line-up:
Lisa Christ Superstar-guitars/vocals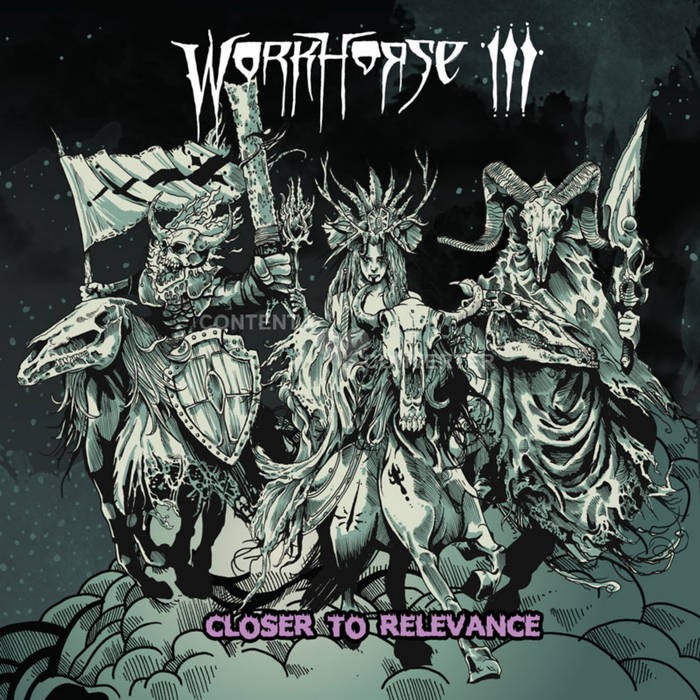 Steve McCarthy-Bass Guitar
Eric Perfect- Drums
Tracklistings:
1. War Torn City
2. Soul Crusher
3. Wasted
4. Holy Roller
5. Nothin' From Me
6. What's The Point
7. Want You
8. Find My Mind
9. Life Of Crime
10. When I'm Gone
11. Closer To Relevance
12. I Can't Forget
Review:
This trio from Philadelphia has just released their third album with twelve powerful songs that cross between hard rock, metal and hints of punk rock. The members have played in various well-known Philly bands such as Savage 3D, Limecell, and the Pagan Babies, and certainly have a punk rock/metal pedigree that gives this album so much of its mix of styles.
The songs are strong, with tight playing, riffs aplenty, and have more than enough energy to light up New York City for a month. The album kicks off with "War Torn City" which has a definite punk sound, almost a UK 81 feel to it, and the dual male and female vocals work well together. The band is coming at you with both barrels and charging at full speed and it hits you before you realize it and down you go, worshipping the mighty and destructive delight of it all. The album just keeps the power going with song after song of intensity and thrilling execution going by so fast that you have no choice but to play it over again and again. The only song that moves from this mix of style, all in the same track most times, is "I Can't Forget," which is a more subtle, slower song. It still has that bite to it for sure. It's kind of a Joan Jett type of song, sweet but with an edge to it that grabs you. The acoustic guitar really gives the song a nice sound and the vocals are awesome.
All in all, the band has a great sound, great playing and really stood out from everything that I have been listening to lately and for that, I thank them. This is a rarity in today's music, a band that takes bits and pieces from different genres that they've played in before, and creates a sound that is distinctly theirs and makes you want to hear more from them right away, so get on that and make more music for years to come. I take off my hat to you and look forward to hearing more.
Review by Rick Ecker