Date: 5th April, 2017
Review by Nathan Slack
It's another busy week for metal and doom in general as German Death Doom duo Mantar put on another night at Camden's Our Black Heart with fellow countrymen Deathrite – an old school death metal troop and a relatively unknown blackened doom trio from Brighton, UK. It's a re-run of their mental show they put on here last year at Desertfest London and it's with more than a little excitement that I head back to the ever familiar streets of Camden Town. I make my way through hipsters and hobo's, doomy bearded dudes with dodgy top knots and squeeze through to the bar for a decent craft beer on tap in an awesome venue for underground music with great decor and a great atmosphere.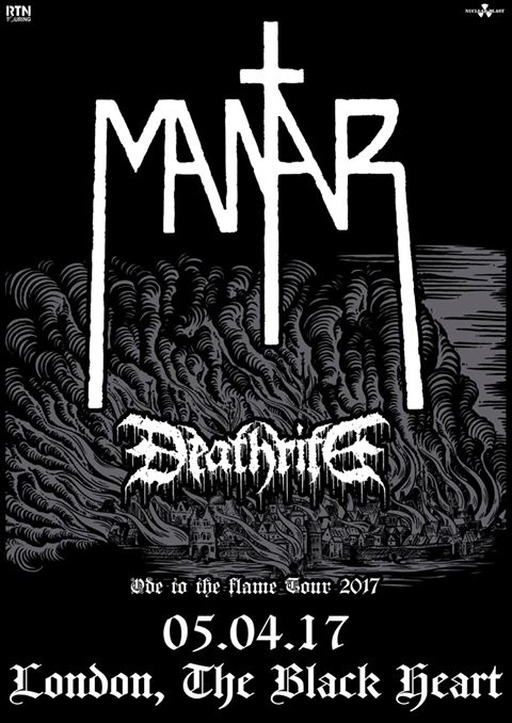 It's a small capacity room upstairs in the Black Heart, but these bands have brought more merch with them than anyone I've ever seen. The guys from Mantar are a hard working 2 man team and I have the chance to chat with the bands singer before the first band Solleme take the stage. Personally I'm more than a little disappointed at the turn out tonight as the venue has about 20 people in it when tonight's openers take to the stage and I shake the man's hand before he disappears backstage.
Primordial was on the Friday night before this and Grand Magus on the Monday and finally Pallbearer tomorrow night too, and it seemed to me that this small underground gig got lost amongst all the other metal going on around it. Old Empire as promoters do put on some great shows with killer line ups but it seemed to me that they just didn't commit enough time and resources to promoting this mid-week gig. I genuinely feel sorry for the German's who are tonight playing a single token UK show on their Ode to the Flame tour. Back in their German heartland they are used to filling much much larger venues and playing sold out shows, here sadly the gig is painfully undersold. Anyway, this isn't going to stop the metal flowing and the fans that are here are definitely making the most of it, me included.
Onto Solleme. They come on quietly and in between tracks the room is deathly silent but when the dude screams it definitely packs a punch. The singer shyly stands off to one side and you might think that they are a relatively young band and inexperienced in a live capacity and you may be right but that doesn't take away the fact that their version of Blackened Doom is actually really bloody good. All are sound musicians and their music comes across strong and their songs well written and well sung. I really hope I get to catch Solleme again on the UK scene and they build their stage presence and confidence as I feel this is what lets them down a little and will perhaps hold them back. Brighton has a great underground metal scene with some great venues but I'd love to see them play Desertfest or Damnation in the future. Maybe a little feedback after each track, some kinda noise that leads from one song to another would help build the tempo and avoid a deathly quiet lull where you could hear a pin drop. I really enjoyed them and will check them out for sure. (7/10)
Mantar's touring buddies Deathrite are up next with their tribute to Swedish old skool death metal. It takes a few seconds for the microphone to start working as they trash out some proper crusty death in the vein of 90's Entombed. Deathrite hold their own though and the singer has a meaty growl to him that's audible over their crushing doomy death grind. Not hugely original in their material they are none the less pretty good to listen to. Personally though, if I want to listen to Swedish style death metal I have a whole host of bands I can listen to that have done it better and still do. (6/10)
And here we go, Mantar, bare chested take to the small stage. It's all they need being just a drummer and the singer/guitarist. They put everything into their performance and the once quiet and mild mannered singer now screams with full force. They open with Cult Witness off their last studio album and its a good start as I edge closer to the stage. Time to let off some steam to some good Doomy Death Punk. The crowd chant along to Era Borealis which leads straight into their best track Astril Kannibal. It's a great combo of song's and gets the best reaction from the exuberant crowd. The latter of the songs was one of the tracks that helped lead me into the more heavy dark side of metal and it was really great to catch that song live. Its a superb set and flows seamlessly from one track into another (Solleme take note) and is over all too soon for my liking. Honestly these guys deserve to be playing to a bigger crowd in the UK next time. Lets make that happen! (9/10)
Setlist:
1. Cult Witness
2. Spit
3. The HuntsmanPraise the Plague
4. Cross the Cross
5. Era Borealis
6. Astral Kannibal
7. (Sample from Schwanenstein)
8. Sundowning
9. White Nights