Date:  9th September 2017
Review by Nathan Slack
Photography by Inty Malcom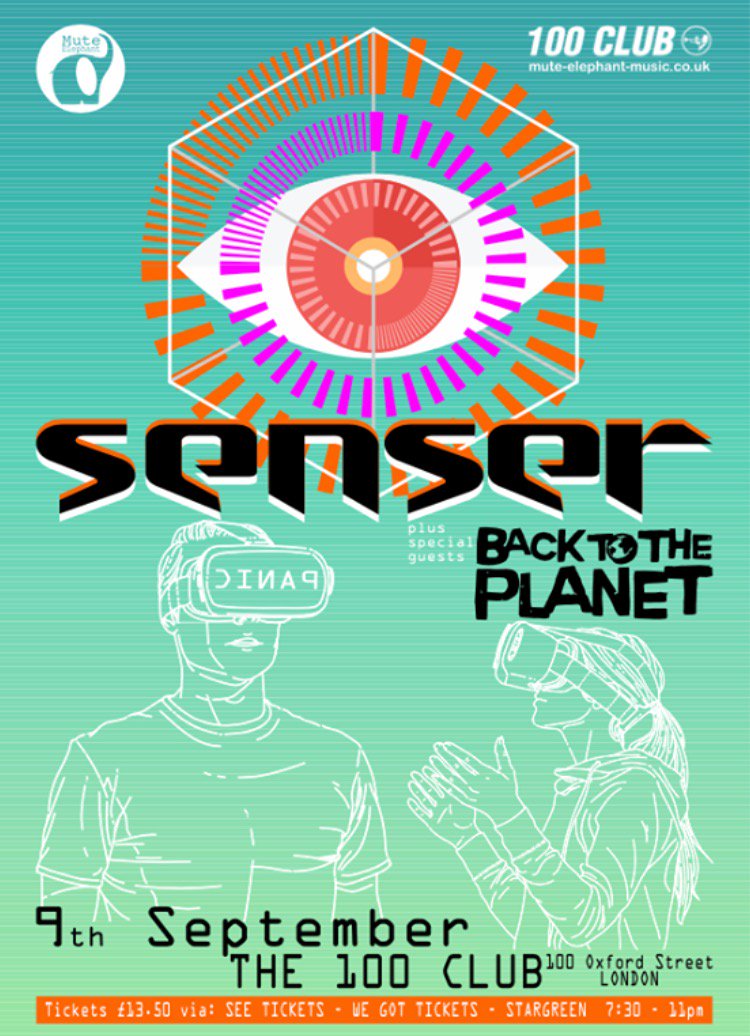 Tonight we head to one of London's most famous clubs, 100 Club, for a night of nostalgia that conjure thoughts of missed opportunity and imagine what might have been, had things been different in the early to mid 90's.
Sex Pistols, The Damned, Souixsie and the Banshee's, Black Flag, The Stranglers, The Jam, Buzzcocks have all played here in punk rocks formative years and the Pistols even recorded one of their albums here. Nowadays 100 Club plays a fair bit of Jazz and then here comes Senser with support from fellow fusionists, anarcho – pop punk band Back to the Planet.
Rewind to Glastonbury 1993, Senser take to the NME stage and bring the house down, playing to thousands of pogoing crustys in a hot feild in Somerset. To be honest that was probily the peak of their career, after that they went on a drug fuelled tour of the States and the band kinda imploded. Members left the band and eventually even the singers, the driving force of the band even left to do other things in other bands. Senser could have been far far bigger than they ended up being and never really lived up to their full potential in my opinion.
But thats by the by, tonight we have the original singers back and everyone is looking forward to them playing tonight. Embarrassingly I was introduced to rapper, Heitham Al-Sayed at the bar and being a little dim didn't recognise him. He looked taller on TV in my defence, but yeah, whoops!
Back to the Planet then come on and save me from my mortification and I nudge my way through ageing punks and crusty's and a token metaller or two like myself.
What struck me after a few upbeat smiley pop punk songs is that Fil Planet's vocals defy her age. She still sings like she's in her 20's still, living in a squat in Peckham and maybe mentally she is as it feels like no time has passed at all.
They play Daydream, their most memorable song early on and people who have never even heard of them smile along and get right into the vibe. mixing ska, electriconia they rev up the crowd to a surprising degree. The band react really warmly and even do an encore. I really enjoyed them mainly because its totally different to what I usually listen to. (7/10)
Next up Senser and the crowd, though the venue isn't packed start to go crazy. The band released a remastering of their best album Stacked Up a few years ago and I thought that tonight would be more of a play through of that album but was pleasantly surprised to here a wide variety of songs ranging from Stacked up, How to do Battle and 2013's To the Capsule. It's great to see the original singers on stage together as both had made their lives away from Senser at one point, having families and living overseas.
Heitham can still rhyme with the best of them and the crowd are really enjoying their performance. Strangely at one point he reads the lyrics of a song from the screen of his iphone but yeah, no one cared. Then Age of Panic came on and everyone went crazy, myself included. It's their best song and most memorable and really reminds me of Rage Against the Machine.
I really enjoyed their set and glad I came out to catch some bands I wouldn't normally have seen. (8/10)
Senser's setlist:
Devoid

Resistance Now

States of Mind

Switch

Time Travel Scratch

Zombies

Witch Village

So Refined

Harder Times

No Comply

Bleak Division

1, 2, 3, Clear

Age of Panic

Who Was In My Room Last Night?

Eject